As the school year progresses, the BISP PTA have planned a number of activities and meetings for the upcoming school year.  The events include a variety of activities from hiking, swimming, tennis, a book club, mahjong, aerial arts as well as the monthly PTA meetings and termly coffee meet ups.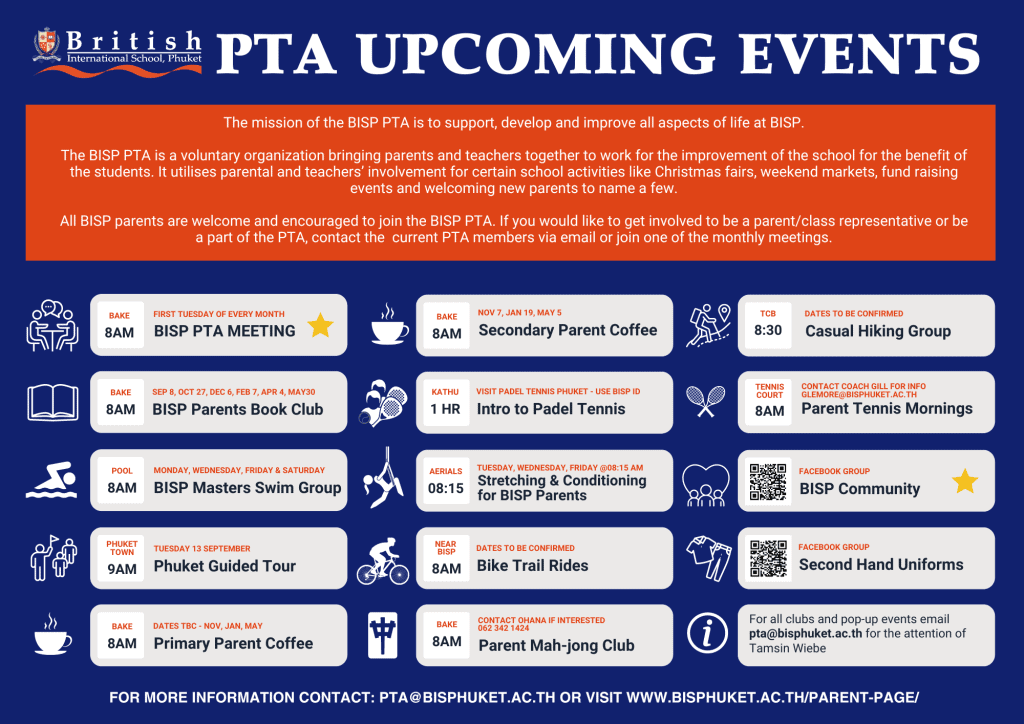 In September, the PTA will host a Phuket Guided walking tour and the first book club meeting.
BISP Parents & Staff Book Club
All parents and staff of BISP are welcome to join a new book club, run by the PTA. Come along to meet new people and explore some good books – no homework necessary 😊
Date: Thursday Sept 8th
Time: 0800-0930
Place: Bake, BISP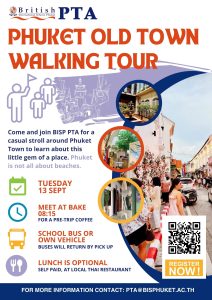 Phuket Town walking Tour
Come and join the BISP PTA for a casual stroll around Phuket Town to learn about this little gem of a place. Phuket is not all about beaches.
Date: Tuesday 13 Sept
Meet: Bake at 0815 for a pre-trip coffee
Transport: School Bus or Own Vehicle (Buses will return in time for pick up.)
Itinerary: Explore Phuket Town, led by school parent tour guides, with a quick stop for mid- morning refreshment.
Lunch: Optional, self paid, at local Thai restaurant.     
All BISP parents are welcome and encouraged to join the BISP PTA. If you would like to get involved to be a parent/class representative or be a part of the PTA, contact the current PTA members via email [email protected] or join one of the monthly meetings.