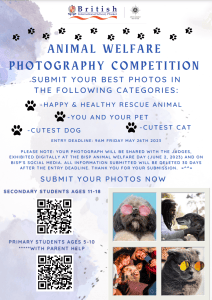 Do you have an eye for capturing the most adorable and heartwarming moments of your furry friends? If yes, then we invite you to participate in our Animal Welfare Photography Competition! 
Submit your best photos in the following categories:
Happy and healthy rescue animal,

You and your pet,

Cutest cat, and

Cutest dog. 
The entry deadline is 9 am Friday, May 26th, 2023.
Please note that your photograph will be shared with the judges and exhibited digitally at the BISP Animal Welfare Day on June 2, 2023, and on BISP's social media. But don't worry, all information submitted will be deleted 30 days after the entry deadline. 
So what are you waiting for? Grab your camera and start snapping those adorable shots! Submit your photos now and let's spread the love for our furry friends!