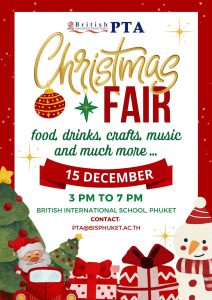 Save the Date! The 2022 BISP Christmas Fair will be held within the school grounds on Thursday 15 December 2022 from 3 pm until 7 pm.
The BISP PTA is now accepting submissions from potential vendors to be part of this event.
In previous years, as many know, the event has been wonderfully successful for all involved and we are very confident this year will be no different!
Please join us for some festive fun! 
BISP PTA Call for Christmas Fair Vendors
If you would like to join the fair as a vendor, provide the following information and return it to Lee Timmins before 8 December via WhatsApp +66 86 269 0648 or via email at [email protected]. 
Vendor Table Prices
Each vendor will be provided with a 180cm (L) x 60cm (W) x 75cm (H) banquet table with blue table dressing that will be under a covered tent.
750 baht per table without power

1000 baht per table with 1 power socket
Vendor Registration 
Company name: 

Contact person: 

Contact number:

Nature of product or service:

Power required: Yes or No

Required setup time: 1-hour or 2-hours

Tax invoice required: Yes / No
Vendor COVID Protocol
For the safety of the whole community in regard to COVID-19, the organiser would like to ask your kind support as follows:
Collect 2 ATK test kits for free from CIS office at gate 1 entrance. The vendor will be responsible for the 3rd or more members.

12 hrs. before entering school, please do the ATK test, fill out the form by scanning the QR code below and bring the test pallet to show to the security guard.

Please do not join the event if you are unwell

Please follow the safety measure as much as possible and practise regular hand washing
Vendors are integral to the success of the event and we look forward to welcoming you to the BISP Christmas Fair.