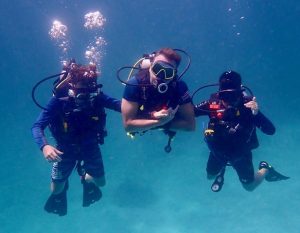 Continuing our feature of getting to know our outstanding staff, we sat down with Ben Daniel, one of our Boarding Houseparents.  Ben made the most of the travel restrictions imposed by covid, by completing a number of safeguarding and International Boarding certifications in 2020, and then turned his hand to more physical challenges over the last 18 months, becoming certified as a PADI diving instructor, an emergency first responder instructor, and an international beach lifeguard. We asked Ben about his passion as a lifelong learner and his exciting plans for BISP students and the wider community.
What does the International Beach Lifeguard qualification involve?
This is an internationally recognised award which promotes and certifies ocean and beach rescue, physical fitness and emergency first responder skills. 
So will we see you on a beach around Phuket?
I worked at Nai Harn beach over the summer of 2021 as part of the Thai Life Saving Society sub-district team but had to cut back due to covid considerations.  We worked on 12 hours shifts in teams of 3, concentrating on preventing accidents and informing and warning visitors about rip tides, as well as providing first aid to anyone injured in accidents, or suffering from heat or sunstroke. They are an amazing team, and I would love to introduce their lifesaving programmes to our own students.
You've also qualified as a diving instructor;  What are your plans with this?
As a certified PADI diving instructor,  I can now register and certify new divers with their very own PADI qualifications and specialty certifications for wreck diving, night diving, underwater photography etc. I would very much like to introduce a dive club or related activities to students and their families next year, so that they can gain easier and less costly access to the PADI certification programme – and also learn more about the joys of diving in and around Phuket. I am also keen to introduce and promote marine life conservation programmes in school, focused on coral reef, shark and turtle protection.  This way we can raise awareness amongst our students and their families about how to look after our beaches and oceans.
For more information on beach lifeguarding, first aid certification, or diving opportunities/deals in and around Phuket, please contact Ben directly: [email protected]