Get ready to dive into a world of imagination and adventure! Mark your calendars, because it's time to celebrate the magic of reading during Book Week which will take place from Monday 27th Feb – Friday 3rd March 2023. Our primary students will be transported to new worlds and meet unforgettable characters, all through the power of books.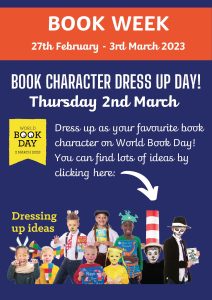 SAVE THE DATE: On Thursday, March 2nd, will be celebrating World Book Day with a special Book Character Parade! Join us as we bring our favourite characters to life by dressing up as our favourite book characters. This is an exciting opportunity for our students to showcase their creativity, so start thinking about who you want to be!
Don't miss out on this amazing week filled with literary wonder and excitement.