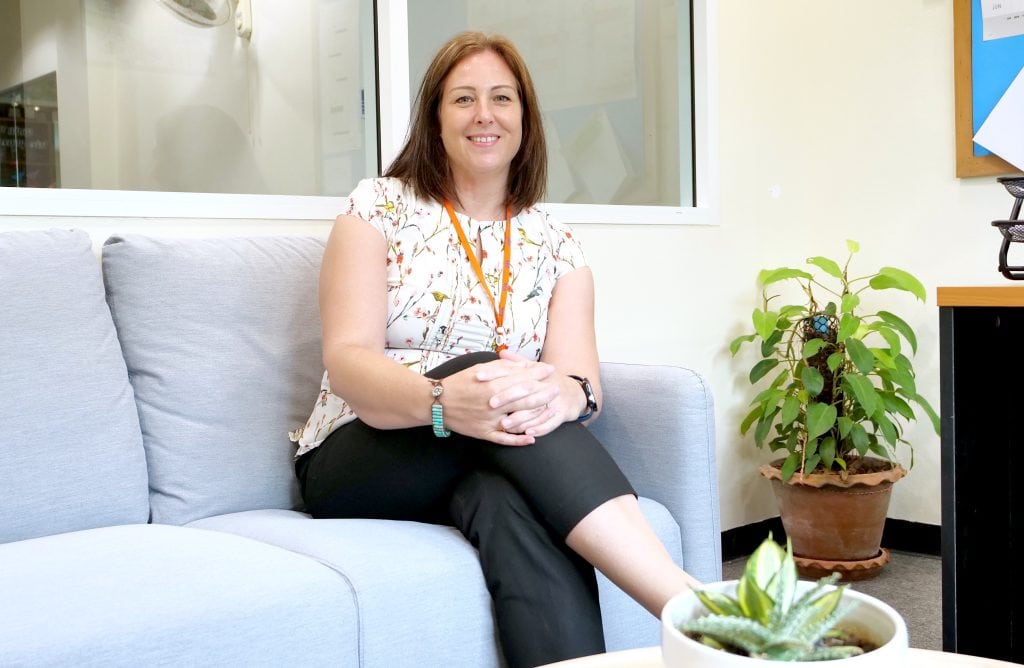 As a native of Bury, Emma has worked in education for 15 years, primarily in England, teaching and leading schools from inner-city areas of London to small rural schools in Lancashire, with BISP marking her first international job. Emma joined BISP in 2019 as a Year 1 Teacher. She then became English Leader in 2021, and now serves as Deputy Principal of Primary at BISP.
We took some time to catch up with Emma and get to know her in her new role as the Deputy Principal of Primary at BISP.
What is your role as Deputy Principal, and how do you anticipate parents will connect with you? 
My role focuses on leading and enhancing teaching and learning skills to improve student academic outcomes across the Primary school but primarily in Key Stage 2. It has been great to start my new role as Deputy with such a positive start to the new academic year. School is back to  its norms as in pre-covid times, and it has been great getting to see existing and new children and families back on campus. I am looking forward to the Parent Workshops that will be held during the school year which will give me excellent opportunities to meet and connect with more parents. 
What do you enjoy most about working in education?
I first became interested in education during my A levels, where I studied Child Development and Psychology. I enjoyed understanding how children and young adults learn and how the environment we provide for children can foster greater learning outcomes. This is still a passion of mine today. I enjoy watching children find their self-confidence, intelligence and talents, allowing them to become happy learners with positive mindsets. With a greater understanding of the growth mindset in schools and how it can impact children's learning skills, it's never been more important to foster a school environment that allows children to thrive on challenge, to see failure as a springboard for growth and to develop their abilities. 
What attracted you to BISP?
Coming from a British school background, what stood out to me about BISP was its holistic educational ethos and emphasis on the mental health and well-being of students and staff.  When I arrived at BISP, I wasn't disappointed. The school vision was embedded into everyday life, and the community was welcoming and friendly, with a supportive team of teachers and staff. The lovely grounds that the school is built on were a pleasant change from the concrete playgrounds in the UK. It's lovely to see children have outdoor space to learn and play.
What professional skill or area of interest are you keen on developing at BISP? 
I am very fortunate to work with a school team that welcomes growth and new ideas, and I hope to build on that in my new role. I am interested in developing children's critical thinking. Teaching children to combine their learning and to self-direct their thinking skills leads them to higher levels of thinking and enables them to produce new and innovative ideas, supporting them to solve problems in their everyday lives. 
What do you like to do when you're not working?
I love to be outdoors, and Phuket is an island with many opportunities for getting out and about on the weekends. I have two dogs who love to go on long walks, and most of my evenings are spent walking them on the many beaches Phuket offers. I also love to eat Thai food, and I can always be found wandering around Thai food markets. 
What behaviour or personality trait do you most attribute your success to, and why?
I have worked with many different teams and school environments. My most successful trait has always been to work collaboratively, respect others' opinions within a team and to engage in a process of collective enquiry. I feel everyone has something they can bring to a team and should be encouraged and valued for their contributions. 
What advice would you give to your teenage self?
My teenage self would benefit from being encouraged to follow my passions in life. We spend so much time worrying about what grades we need to achieve and what job we might do when we get older that sometimes we forget to follow our interests and do things we enjoy.
Passion drives our interests and is essential in making us happy, well-rounded individuals.