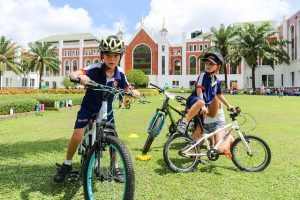 On Tuesday 21st May, BISP Primary kicked off their annual Ride4Kids wheels event. Over 300 children took part in the event; scooting or cycling with their friends to raise money for local charities. The day also comprised a Bake Sale in the Primary Foyer, providing children (and teachers) with sweet treats throughout the day.
The Ride4Kids concept aims to raise much-needed funds for 3 local children's charities on the island; Phuket Has Been Good To Us Foundation (PHBGTU), Good Shepherd School (GSS) and Outrigger's Share 4 Change. Over the 2 years that BISP has been supporting the initiative, the school community has helped raise nearly 500,000 THB for this much-needed cause.
This money has an incredible impact on our local community. The Good Shepherd School Ban Ya will be using some of it to build a well so that the children have access to fresh water. 11,500thb will provide health checks and medical attention for all of the children at the GSS in Phuket Town. PHBGTU will use the funds to employ a full-time English teacher for the children.
Thank you very much to everyone who helped us Make A Difference.
– Rebecca Krijewski, Year 5 Teacher